25. September 2021 bis 21. November 2021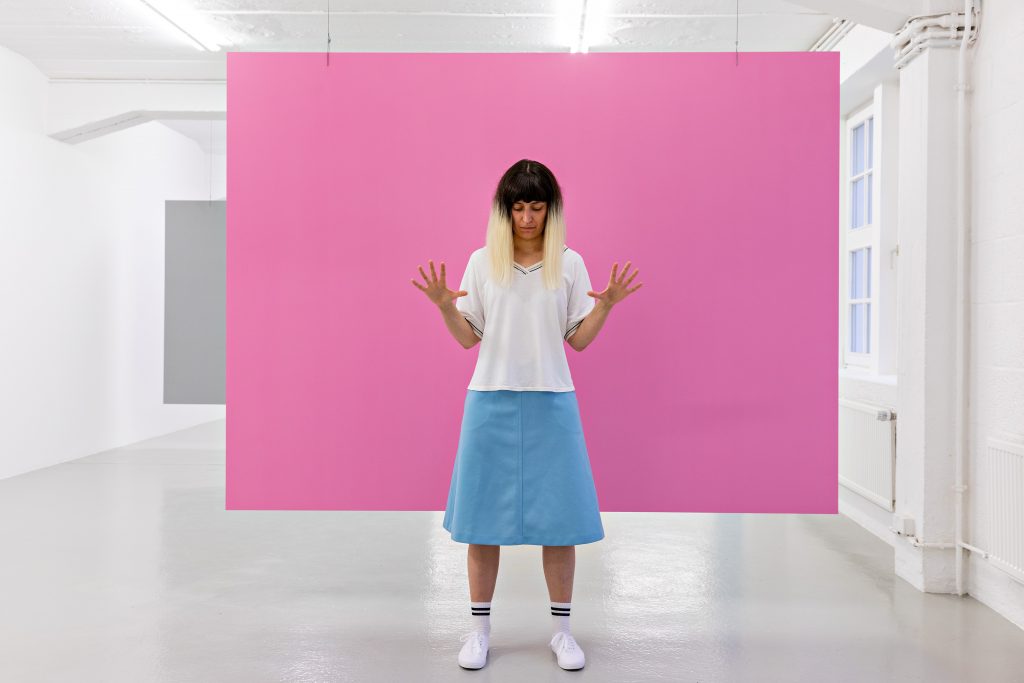 Unter dem Titel Methods for the Study of What Is Not There präsentiert Irina Gheorghe (* 1981 in Târgoviște, RO, lebt in Berlin) eine Performance und eine Installation aus Fotografien, farbigen Paneelen, einer Soundarbeit und Klebebandzeichnungen. Die formal strengen, aus rechteckigen Farbflächen zusammengesetzten Zeichnungen sind Studien zu der Performance Preliminary Remarks for the Study of What Is Not There, die Gheorghe zur Ausstellungseröffnung aufführt. Sie stellen Partituren dar für Choreografien, in denen Gheorghe mittels Sprache und Gesten eine imaginäre Landkarte von nicht-greifbaren Präsenzen im Raum entfaltet. Hinter farblich codierten Arrangements verbergen sich verschiedene Kategorisierungen nicht-wahrnehmbarer Entitäten, die sich zu einer Kartografie zusammenfügen. Elemente früherer Partituren überlagern sich in der Installation und erzeugen eine eigenwillige Zeitlichkeit, die die Gegenwart verzerrt. Fotografien zeigen die Künstlerin bei der Ausführung von Gesten, die sie in ihrer Performance anwendet. Der fragmentarische Charakter der Serien lassen ein unentzifferbares Gestenvokabular aufscheinen. Ähnlich wie der Text in der Performance und Audioarbeit erzeugen sie eine Atmosphäre von Absurdität und Entfremdung, in der das angewandte Zeichensystem als arbiträres System entlarvt wird. In der Performance verbindet Gheorghe mittels Körpersprache und Stimme den vorhandenen Raum mit einer anderen Dimension unsichtbarer Existenzen. Sie oszilliert zwischen Skript und Improvisation und bezieht sowohl die räumliche Situation als auch das Publikum mit ein.
/English version/
Under the title Methods for the Study of What Is Not There, Irina Gheorghe (b. 1981 in Târgovi
ș
te, RO, lives in Berlin) presents a performance and an installation comprising photographs, colored panels, a sound work and tape drawings. The formally rigorous drawings, composed of rectangular areas of color, are studies for the performance Preliminary Remarks for the Study of What Is Not There, which Gheorghe will perform at the opening of the exhibition. They are scores for choreographies in which she uses language and gestures to unfold an imaginary map of intangible presences in the space. Color-coded arrangements conceal various categorizations of non-perceptible entities that come together to form a cartography. Elements of earlier scores overlap in the installation and create an idiosyncratic temporality that distorts the present. Photographs show the artist executing gestures that she uses in her performance. The fragmentary character of the series allows an indecipherable vocabulary of gestures to emerge. Similarly to the text in the performance and audio work, they create an atmosphere of absurdity and alienation in which the applied sign system is debunked as an arbitrary system. In the performance, Gheorghe uses body language and voice to connect the existing space with another dimension of invisible existences. She oscillates between script and improvisation and involves both the spatial situation and the audience.